Posts Tagged 'Forestry'
Posted by admin on April 15th, 2013
[unable to retrieve full-text content]Estimates of greenhouse gas emissions for the constituent countries of the UK.
Environment and countryside
Posted by admin on February 26th, 2013
WALTHAM, Mass.–(BUSINESS WIRE)–The Cadmus Group, Inc. announced today that the U.S. Endowment for
Forestry and Communities (the Endowment) has retained Tracy Mehan, a
principal with the company, to coordinate the Endowment's source water
protection efforts.
"An estimated two out of three Americans receive their drinking water
from a forested watershed"
Mehan will focus on working with the water utility industry and
individual utilities to help advance watershed protection in a systemic,
transformative, and sustainable way, which is a hallmark of the
Endowment's approach. His activities will be guided in part by the
recommendations presented in the Source Water Protection Vision and
Roadmap, published by the Water Research Foundation in 2012.
"An estimated two out of three Americans receive their drinking water
from a forested watershed," noted Carlton Owen, the Endowment's
President and CEO. "Protecting, restoring, and improving management of
these working forests is the most economical way to ensure clean,
abundant supplies of drinking water. If the forests are lost or
degraded, water quality diminishes, triggering expensive treatment and
storage costs. We could not be more pleased to add Tracy to our team to
help advance protection of forested watersheds, which will, in turn,
save money for everyone."
"My colleagues and I are both pleased and privileged to work with the
Endowment, water utility managers, and local communities to protect both
forests and drinking water, two of our most important assets," said
Mehan. "We appreciate this opportunity to enhance greater collaboration
between these two key sectors."
The primary focus of this initiative will be on source water protection
with a view toward cost-effective drinking water protection and the
generation of multiple ecological benefits beyond safe water, such as
habitat protection and carbon sequestration. Since healthy watersheds
reduce water treatment and storage costs while generating multiple other
environmental benefits, investments in protecting and managing
watersheds through sustainable funding mechanisms are cost-effective.
Increasing numbers of communities and utilities realize the importance
of watershed protection but lack the information, mechanisms, and/or
support required to bring about protection. This initiative will provide
or coordinate that support, particularly with regard to the financing
strategies needed to accomplish watershed protection.
"We are very pleased to have Tracy work on this effort to advance public
health and environmental protection," said Chi Ho Sham, Ph.D., senior
vice president of Cadmus' Environmental Science and Policy Division.
"Cadmus has a long history supporting drinking water source protection
programs at the federal, state, and local levels. The contributions to
be made by Tracy are consistent with Cadmus' mission in advancing social
good."
Mehan's position is being co-funded by the Weyerhaeuser Family
Foundation and the American Water Works Association (AWWA).
About The Cadmus Group, Inc.
Cadmus is an employee-owned consultancy committed to helping our clients
address complex challenges by applying diverse skills and experiences in
a highly collaborative environment. By assisting our clients in
achieving their goals, we create social and economic value today and for
future generations. Founded in 1983, we leverage exceptional expertise
across a staff of more than 400 professionals in the physical and life
sciences, engineering, social sciences, strategic communication,
architecture and design, law, policy analysis, and the liberal arts who
provide an array of research and analytical services in the United
States and abroad.
Learn more at www.cadmusgroup.com.
Follow
us on Twitter @CadmusGroup
Like
us on Facebook http://www.facebook.com/cadmusgroup
Posted by admin on February 12th, 2013
(New York, N.Y.) The U.S. Environmental Protection Agency has awarded a $ 500,000 Wetland Program Development Grant to the Research Foundation of the State University of New York at the SUNY College of Environmental Science and Forestry in Syracuse, New York. The grant will be used to develop a field manual that will be used to assess the condition of wetlands throughout New York State.
"Wetlands provide enormous environmental benefits, such as serving as essential habitats for fish and wildlife and reducing many of the effects of climate change," said EPA Regional Administrator Judith A. Enck. "Wetlands reduce and filter runoff that pollutes local waterways, particularly in urban areas, and control flooding by absorbing rain and waters from melting snow. This project will enhance the ability to assess and protect New York's wetlands."
Under this project, the university will conduct field evaluations of wetland conditions at over 100 sites, and an analysis of land uses surrounding the wetlands. The State University of New York will contribute $ 209,060 towards this project's total cost and will work with the New York State Department of Environmental Conservation and the New York State Department of Transportation on this project.
Since 1990, EPA's Wetland Program Development Grants have provided financial assistance to help build or refine state and local government wetland programs. These funds provide opportunities for states to conduct research and help build the science behind comprehensive wetlands programs at the state level. Recipients of these grants are required to contribute a minimum of 25 percent of the cost of the project.
For more information on the EPA's Wetland Program Development Grants, visit: http://www.epa.gov/owow/wetlands/grantguidelines/.
Follow EPA Region 2 on Twitter at http://twitter.com/eparegion2 and Facebook at http://www.facebook.com/eparegion2.
13-016
Posted by admin on February 7th, 2013
Contributions are invited to a consultation from PACE-Net (the Pacific Europe NETWORK for Science and Technology) on a draft white paper on climate change, agriculture and forestry in the Pacific region. PACE encompasses the 15 member countries of the Africa Caribbean Pacific Group, including the Cook Islands, Solomon Islands, Fiji and Papua New Guinea, along with Australia and New Zealand. A number of these nations have forest cover in excess of 50 -80 percent of their land mass, with these forests of global significance in terms of their biodiversity. In addition, 65 – 85 percent of Pacific Islanders (some 10 million people) make their living from forestry, along with agriculture and fisheries. However there is a need for improved forest governance and land-use legislation in the Pacific region, to prevent the loss of this vital forest cover.
The Pacific Islands are extremely vulnerable to the effects of climate change, yet lack a coherent science and technology strategy to support the development of innovative solutions to this and other challenges facing the environment and the sectors that support the livelihoods of so many. The PACE-Net consultation seeks views on an over-arching policy framework to address the vulnerability of the agriculture and fisheries sectors in the Pacific. Comments are also sought on proposals to embark on a programme of research, development and innovation to facilitate the development of policy to safeguard natural assets in the Pacific and to contribute to the sustainable management of these natural resources.
PACE-Net is supported by the European Commission under the seventh Framework Programme. It is a three-year programme aimed at strengthening bi-regional dialogue on science and technology between Europe and the Pacific countries. PACE-Net also aims to raise awareness of the critical importance of the Pacific region to global sustainability and highlight the vulnerability of its island states.
The draft paper has been developed by PACE-Net as the outcome of a conference which was held in Brussels in March last year. Once comments have been assimilated the final white paper will be adopted by Governments in the region and used to inform the development of relevant legislation.
Tags: Consultation, European Commission, Pacific Islands
You can leave a response, or trackback from your own site.
Posted by admin on January 29th, 2013
Hawkinsville, Georgia (PRWEB) January 29, 2013
Every two years, Wood-Mizer, the industry leader in portable and industrial sawmills, holds a national contest for more than 40,000 customers to find sawmill businesses that truly are a cut above the rest.
Hamsley Forestry won first place in the category for businesses running Wood-Mizer's manual sawmill equipment. The business was featured in The Wood-Mizer Way, a leading magazine for the portable and industrial sawmilling industry with circulation of 40,000+.
Owner Danny Hamsley, a registered Forester, started sawing his own lumber in 2002 to expand on his furniture building hobby. He began selling some of the extra lumber he was producing, and was surprised at the interest from local woodworkers. He developed a plan to retire and focus on sawing and selling hardwood lumber locally.
His business involves harvesting trees from his own acreage, sawing each log up one-by-one, drying the lumber, and then either selling it, or building furniture for sale.
For more information about Danny's business, visit his online winner showcase.
Wood-Mizer's bi-annual Business Best contest recognizes customers who utilize top sawing practices and sound financial strategies to earn a living and a reputation as the best in the business. See other winning entries here.
###
Wood-Mizer offers an extensive line of portable and industrial sawmill equipment. The company supports its equipment with legendary customer service, blades, and blade maintenance equipment. To learn more, visit http://www.woodmizer.com.
Posted by admin on December 18th, 2012
Sir Harry Studholme has been appointed as interim Chair of the Forestry Commission up to 30 June 2013. He is a serving Forestry Commissioner and his interim appointment follows the departure of Pamela Warhurst on 31 December 2012.
The Forestry Commission is a Non-Ministerial Department operating primarily under the terms of the Forestry Act 1967. It is sponsored by Defra and led by the Board of Forestry Commissioners.
The appointment has been made in accordance with the Code of Practice issued by the Commissioner for Public Appointments. All appointments are made on merit and political activity plays no part in the selection process.
Biography
Sir Harry Studholme has owned and managed forests in South West England for over 20 years. He has been a GB Forestry Commissioner since 2007 and was Deputy Chairman of the Independent Panel on Forestry, which reported in July 2012 on the future of English forestry. His current commitments include chairing the Phaunos Timber Fund, a quoted investment trust owning forestry across five continents.
Sir Harry was Chairman of the South West Regional Development Agency from 2009 to 2012. He chaired the Finding Sanctuary project, working with environmentalists and the fishing industry on proposals for marine conservation from 2007 to 2011. He is an Engineering graduate of Cambridge University, a Chartered Accountant (FCA), a Chartered Tax Adviser (CTA) and accredited Commercial Mediator (CEDR).
Posted by admin on December 4th, 2012
After serving a three year appointment as Chair of the Forestry Commission, Pamela Warhurst will step down at the end of the year.
The position will be advertised in the New Year with the aim of making an appointment by early summer.  In the interim, we will be taking steps to ensure that the Board of Commissioners remains fully capable of discharging its functions.
Pamela Warhurst has provided the Forestry Commission with robust and resolute leadership for the last three years and it has maintained a high level of performance and service to the forestry sector during that time.
With the upcoming transition of Forestry Commission Wales into the new environmental body, Natural Resources Wales and the setting of a fresh focus in England in response to the report of the Independent Panel on Forestry, the Forestry Commission will be entering a new phase.  Pamela leaves the Commission well placed to face these challenges and Ministers have decided that this is the right time to bring in new leadership.
Posted by admin on November 1st, 2012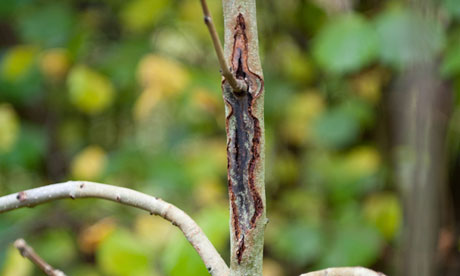 Nurseries import hundreds of thousands of potentially diseased ash trees into Britain every year because the grant system that funds most commercial tree planting is unpredictable and chaotic, leading forestry companies have claimed.
Growers are also sceptical that the government ban on imports of ash trees to prevent the spread of the fungus that causes ash dieback will be effective, because they say it is not extensive enough.
"The government has not banned imports – it has just insisted that ash trees come from a pest-free area," said Jamie Dewhurst of J&A Growers. "It is possible for anywhere in Europe to be declared a pest-free area, so imports may continue after inspections. We cannot rely on the government to sort out this mess: the fact remains that the European plant health regime has proved to be inadequate."
But Defra rejected this, a spokseman saying: "All ash trees have been banned from coming into Britain from any country indefinitely."
Ash trees infected with the Chalara fraxinea fungus that causes ash dieback were first detected in the UK in a nursery in Buckinghamshire. The disease was confirmed in the wild last week and the government introduced a ban on ash seedlings from infected areas from Monday.
Nearly 10 million young trees of all species are imported to Britain for planting annually, of which hundreds of thousands are likely to be young ash trees whose origins and health are unknown, said Grant Murray, sales director at Alba trees, the UK's biggest container tree grower.
But British growers say that foreign imports are not needed. "It's ridiculous," said Murray. "British nurseries could easily grow all the trees needed here and we could guarantee their health, but there is absolutely no predictability about what will be needed to plant in Britain. The grant system is unstable and in chaos."
The industry depends on government grants to landowners and the Forestry Commission, which determine which tree species are grown where. The criticism from the industry is that Whitehall makes changes too often, so it is hard for tree nurseries to predict demand.
"We never know year to year how many [trees] will be needed. So many nurseries have had to make up shortfalls from imports," said Murray. "If the bureaucratic grant system was better run, then there would have been far fewer imports and we might have avoided this situation."
He said demand was controlled by the decisions of a few civil servants. "We do not know what is happening until our trees are halfway through their growing cycle. You buy from one European nursery and you do not know whether they have brought them in from another. Every year the industry burns hundreds of thousands of trees at the same time as it imports them."
According to trade body the Confederation of Forest Industries, nurseries either overproduce and then have to destroy hundreds of thousands of young trees every year, or grow what they think will be needed and then import. "For a long time we have said we need long-term thinking. All the changes in grants result in uncertainty. We have had a hiatus where no grants are available for several years," said Jane Karthaus of ConFor.
The shadow environment secretary, Mary Creagh, said that the 25% cuts to the budget of the Forestry Commission made it likely that it will be impossible this year to ascertain how far ash dieback has spread into Britain's 90 million ash trees.
"Those cuts have reduced the Forestry Commission's ability to identify and tackle tree disease," she said.
A Defra spokesperson said: "We work with people who are given funding through our woodland grant schemes to help ensure their woodland planting schemes are successful. The species of trees grown is ultimately their choice, and nursery businesses have to plan for what they believe their customers will want."
Environment news, comment and analysis from the Guardian | guardian.co.uk
Posted by admin on July 19th, 2012
WASHINGTON–(BUSINESS WIRE)–The first political risk insurance contract for a Reduced Emissions from Deforestation and Degradation (REDD) project, provided by the Overseas Private Investment Corporation (OPIC) to Terra Global Capital for a project in Cambodia, has been awarded the Sustainable Forestry Transaction of the Year by Environmental Finance magazine.
"excellence in the application of capital markets know-how to addressing the world's environmental problems."
The award recognizes "excellence in the application of capital markets know-how to addressing the world's environmental problems." The magazine's criteria rewarded deals that were "novel, offered the potential for replication, and facilitated the solution of environmental problems using finance and/or market mechanisms." Environmental Finance is the leading global publication covering the financial impact of environmental issues on the business community.
The OPIC insurance project, announced in November 2011, will help protect 64,318 hectares of forest in Cambodia and sequester approximately 8.7 million metric tons of CO2e. OPIC is providing $ 900,000 in political risk insurance to Terra Global Capital, a U.S.-based leading land-use carbon development and investment company that has invested in the project.
Mark Nicholls, editor of Environmental Finance, said, "So many opportunities to cost-effectively tackle the world's environmental problems are found in jurisdictions in which investors struggle to operate – and which use novel mechanisms, such as REDD, which carry plenty of risk themselves. So it's encouraging to see institutions such as OPIC stepping up to the plate with support for investments like the one that Terra has made in its cutting-edge projects in Cambodia."
OPIC President and CEO Elizabeth Littlefield said, "We are deeply honored that Environmental Finance, a respected voice for the sustainable development of natural resources, has recognized this innovative project. By encouraging public-private cooperation to both protect forests and support the economies that border them, we see great promise in the development of the forest carbon sector, and this project should have applications across many emerging markets. We are equally proud to share this award with Terra Global Capital."
Leslie Durschinger, Founder and Managing Director of Terra Global Capital, said, "Through our commitment to creating forest and agricultural carbon assets with environmental integrity and our ability to use financial innovation to attract capital and reduce risk we are creating investment opportunities in the sector."
OPIC is the U.S. Government's development finance institution. It mobilizes private capital to help solve critical development challenges and in doing so, advances U.S. foreign policy. Because OPIC works with the U.S. private sector, it helps U.S. businesses gain footholds in emerging markets catalyzing revenues, jobs and growth opportunities both at home and abroad. OPIC achieves its mission by providing investors with financing, guarantees, political risk insurance, and support for private equity investment funds.
Established as an agency of the U.S. Government in 1971, OPIC operates on a self-sustaining basis at no net cost to American taxpayers. OPIC services are available for new and expanding business enterprises in more than 150 countries worldwide. To date, OPIC has supported more than $ 200 billion of investment in over 4,000 projects, generated an estimated $ 75 billion in U.S. exports and supported more than 276,000 American jobs.