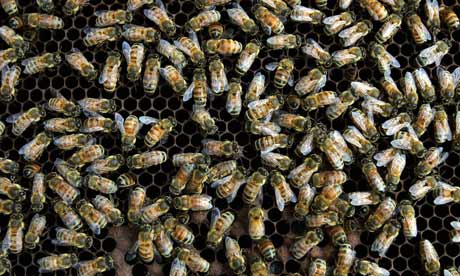 The north-east of England has recorded a honeybee loss rate of 17.1%. Photograph: Saul Loeb/AFP
Honeybee populations declined by 13.6% over the winter, according to a survey of beekeepers across England. Losses were most severe in the north-east, where the survey recorded a loss rate of 17.1%.
Experts worry that the declines will affect plant productivity. There are also concerns that the declines, along with drought conditions in some areas, will mean less English honey this year.
Martin Smith, president of the British Beekeepers Association, which carried out the survey, said: "If this was measured against similar losses in livestock it would be seen as disastrous and there would be great concern on the knock-on impact of food prices."
Beekeepers are puzzled by the decline because the cold winter and early spring should have favoured bees. They stay "clustered" tightly in their hives when it is cold and dry, saving energy for spring foraging when the temperature rises about 12C.
However, there is good news that the rate of colony loss has slowed. Four years ago, one in three hives was wiped out.
Beekeepers suspect that poor nutrition is a likely cause of weakness in adult bees that makes them succumb to diseases spread by a parasitic mite.
"The varroa mite is the number one reason why people lose bees, so the government needs to increase research to cure diseases caused by varroa," said Smith. "But a colony that has a good source of pollen and nectar will go into winter stronger and better able to fend off disease."
The association is calling on everyone who has a garden, however small, to plant bee-friendly plants this summer. "It is really important that there are flowering nectar-rich plants around in August, September and October to provide the nutrition that's needed so the bees can top up their stores of honey in the hive to see them through winter," said Smith.
A campaign being launched next week to save all bees, spearheaded by Sam Roddick and Neal's Yard Remedies, pins the blame for the decline on pesticide. It will start a petition to hand to Downing Street in October to ban the use of a class of pesticides that has been implicated in bee deaths across the world.
Roddick said: "These neonicotinoid pesticides penetrate the plant and indiscriminately attack the nervous system of insects that feed off them, disorientating bees, impairing their foraging ability and weakening their immune system, causing bee Aids. On current evidence, Italy, Germany and Slovenia have banned some varieties. In the UK, it's up to the people to show the government that if there is any doubt that they are contributing to bee deaths, we need to ban them."
A spokesman for the government's National Bee Unit said: "The UK has a robust system for assessing risks from pesticides and all the evidence shows neonicotinoids do not pose an unacceptable risk when products are used correctly, but we will not hesitate to act if presented with any new evidence. "
He added: "Although we're pleased the BBKA's seen fewer overwintering losses, bees continue to be affected by pests, diseases, and the weather. Amid a range of initiatives, we're training beekeepers, researching varroa mite controls, and improving the availability of medicines."
Environment news, comment and analysis from the Guardian | guardian.co.uk